Keep Driving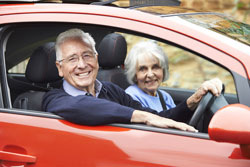 Driving is very important for many of us. It gives us the freedom and independence to get out and about, keep in contact with family and friends and maintain our quality of life.
One of the best ways of making sure we are able to keep driving for as long as possible is keep our driving skills and knowledge up to date.
For example, make sure that you are familiar with the latest edition of The Highway Code, which is free online or can be bought from most bookshops - it's probably changed since you last read it.
Use the links below or at the side for further information and advice.
Is Your Driving Changing? leaflets and posters intended to help elderly drivers to drive safely, for longer.
Safe Driving provides useful tips for drivers.
Coping with Changes provides tips on how to adapt your driving if you find your driving ability is changing.
Resources and Videos provides links to free guides and films about safe driving.
Driver Assessment explains how a driving assessment can help and where to find one.
Refresher Driver Training explains how a driver training course can help and where to find one.
The Law outlines the medical standards for driving that every driver must meet, no matter how old they are, and which conditions must be reported to the DVLA.