Driver Assessment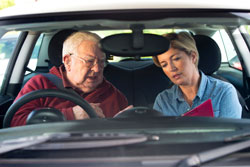 Everybody's driving changes over time, in different ways and for different reasons.
A driving assessment can help you to identify how and why your driving is changing and what can be done to help you to continue to drive safely for as long as possible.
There are two different types of driver assessments:
Detailed driving assessments for people with a medical condition or disability which affects their driving, or who are returning to driving after an accident or injury, are provided by Driving Mobility Centres
Simple driving assessments for people who just need a little help and advice on how to improve their driving by organisations such as RoSPA, the IAM and Local Authorities.
A driver assessment, and if recommended, some refresher training, will help to make your driving safer, less stressful and more enjoyable. It can help you to save money by using less fuel and reducing vehicle wear and tear, and your car may last longer and have a higher resale value. You may also be able receive insurance discounts from some insurance companies, and at the very least, it will help you to keep your no claims bonus intact.
If you have a medical condition or disability which may affect your driving, you should take an assessment at a Driving Mobility Centre, rather than just a simple driving assessment or refresher training.
Use the links below or at the side for further information and advice.
Self-Assessment provides a simple checklist to see if your driving is changing, and if so, how.
Find a Driving Assessment explains the different types of driving assessment, how they can help and where to find one.
Find Refresher Driver Training explains how a driving training course can help and where to find one.