Keeping Your Car Safe
It's essential to make sure that your car is properly taxed, has a valid MOT (if it is older than three years) and is regularly serviced according to the manufacturer's recommendations.
MOT
Around 40% of cars fail their MOT at the first attempt, and nearly 50% of all faults found on MOTs could be avoided by carrying out regular, simple maintenance, like replacing bulbs, wipers and tyres. More details are available at Reasons Why Cars Fail MOTS. You can find more information about the MOT, how it works and how to get one in Getting an MOT.
Car Service
An MOT isn't the same as having your car serviced and doesn't check its general mechanical condition, the engine, clutch or gearbox, so it's important to also have your car serviced at the intervals recommended by the manufacturer.
Regular Safety Checks
It's also important to conduct regular safety checks between services and MOTs and especially before a long drive and as Winter approaches.
The following simple checklist may help.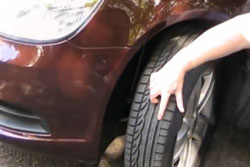 Around once a month, and before any long journey, check:
Tyres are undamaged (no cuts or bulges), are at the correct pressure and have enough tread depth. The legal minimum is 1.6mm, but once tread depth falls below 3mm braking distances in the wet increase.
Oil, coolant and windscreen wash levels are near their maximum levels (and well above the minimum level at least). Check the levels when the engine is cold.
Before setting off on any journey, check that:
Brakes are working
Lights and indicators are clean and working
Windscreen and windows are clean and not damaged
There is no visible damage to the vehicle body
Washers and wipers are working
Mirrors are correctly positioned.
The driver's seat is adjusted so you can easily reach all the controls and have a good view of the road over the bonnet, and around the vehicle
You and any passengers are wearing seat belts
Any child passengers are in a suitable child car seat that is securely fitted in the car
Head-restraints are adjusted correctly (The top of the head restraint should be level with the top of your head. See Using Head Restraints for further advice.
Loads are securely restrained in the boot.
If you're not sure how to do these checks, read the vehicle's handbook, and/or ask someone to show you.
Further Information
DVSA videos about simple car maintenance and checks
Vehicle Checks (A short RoSPA film showing how to do simple car safety checks)