The Law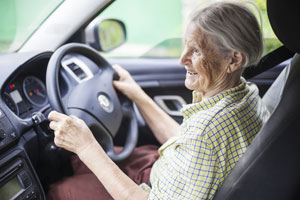 The older we are, the more experience we have as drivers. This is one of the reasons why older drivers tend to be safer and more considerate drivers.
However, our health and fitness often begins to decline as we grow older. Our eyesight, physical condition and reaction times may not be as good as they once were, and we may develop age related conditions, or be taking medications, that can affect our driving.
Each of us is personally responsible for making sure that we are fit to drive. Some physical or medical conditions must, by law, be reported to the DVLA (or the DVA if you live in Northern Ireland). Other conditions do not need to be reported, but may still affect your driving.
Some conditions get worse over time, so it is important to regularly monitor how they affect your driving, and to take advice from a doctor, pharmacist or other medical professional.
There are some prescription drugs and over-the-counter medicines that can have an effect on the skills needed to drive safely.  The best way to find out if the medication they are taking affects their ability to drive safely is to ask for advice from a doctor, healthcare professional or pharmacist.
Driving licences expire at 70 years of age, so when you reach 70, you need to renew your driving licence if you wish to continue driving. You then need to renew it every three years afterwards. 
This section outlines your legal responsibilities as a driver, how and why your driving might change over time (including common conditions that affect driving), and what to do if it does. 
Use the links below or at the side for further information and advice.
The Law outlines the medical standards for driving that every driver must meet, no matter how old they are, and which conditions must be reported to the DVLA.
Common Conditions outlines the most common health conditions that might affect our driving over time, and what to do if one affects you.
Eyesight explains the law about the minimum eyesight requirements for drivers.
Renewing Your Driving Licence explains the rules for renewing your driving licence and how you can do so.